KEEP UP TO DATE WITH ALL OUR LATEST NEWS
SUBSCRIBE TO OUR NEWSLETTER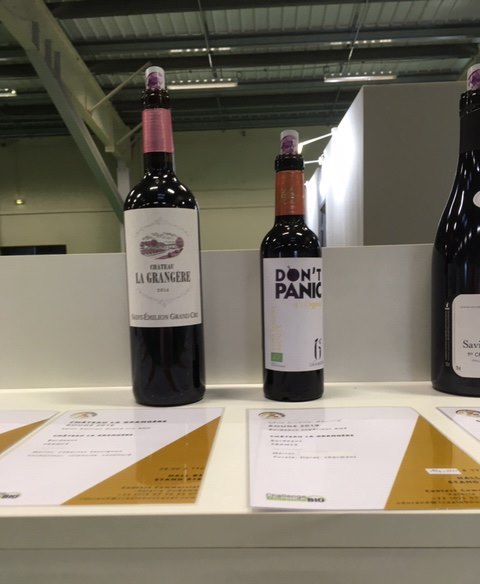 MILLÉSIME BIO
2è jour et déjà 2 médailles d'OR , au Challenge Millésime Bio 2020 . Une pour notre Château La Grangère (Saint-Emilion Grand Cru bio 2016) et la seconde pour notre nouvelle cuvée Sans Soufre DON'T PANIC IT'S ORGANIC (Bordeaux Supérieur Bio 2019) présentée en avant première ! Il semble que l'audace et le travail porte ses fruits !

Millesime Bio Montpellier ! Du 27 au 29 janvier, le Parc des Expositions de Montpellier va abriter la plus grande cave au monde de vins biologiques !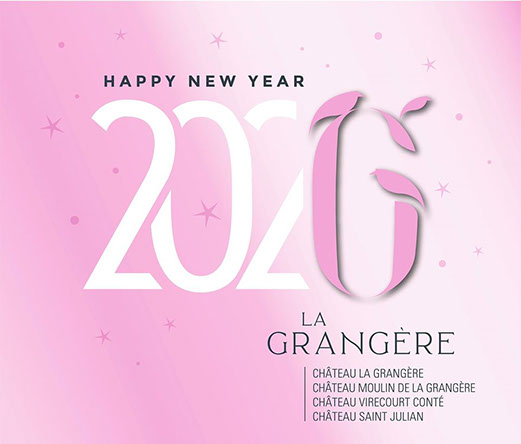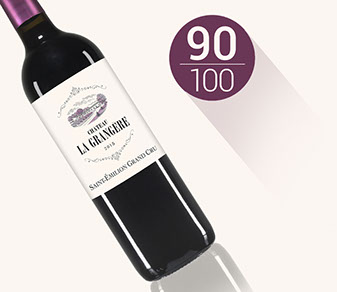 90/10 : This saint emilion estate has turned out a beautiful 2015 La Grangère and its ruby purple color is followed by a complex bouquet or ripe black raspberries, toasty oak spice and exotic flowers
A blend of merlot and cabernet sauvignon, this medium to full-bodied 2015 has good overall balance, plenty of minerality on the finish, and a pretty, charming style ideal for drinking over the coming 7-8 years.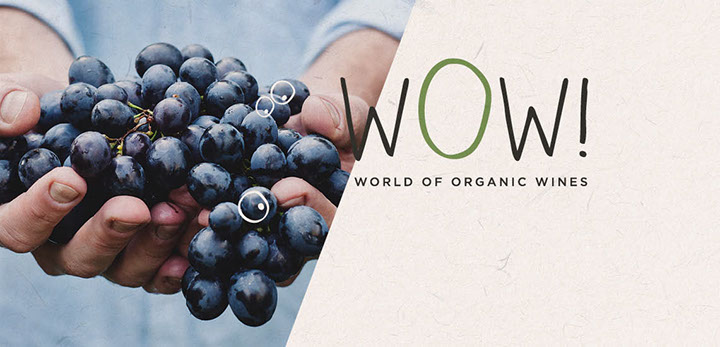 Vinexpo
We will be present at the WOW (World of Organic Wine), in VINEXPO, Hall 3- and W309 on the 18 and 19th June from 9am to 6:30pm ! For the fisrt time, an area is dedicated to organic wines ! The place will accomodate tasting tables, conferences, debates and a 100% organic restaurant !
Primeurs
The famous Bordelaise Primeurs week is now over with a crowning final : a 89-90/100 for our Château La Grangère 2016 assigned by James Suckling the well-known taster and wine critic ! « A fine and polished red with pretty tannins, a medium body and clean finish. Refined ! »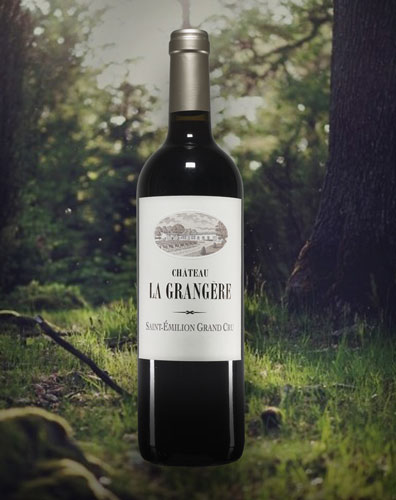 Lyon International Wines Competiton 2017 :
Gold medal at the Lyon International Wines Competiton 2017 for our Château La Grangère 2014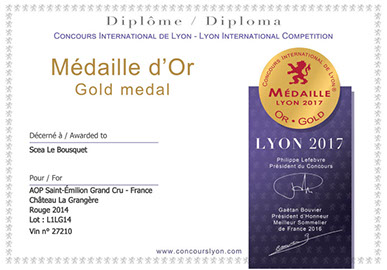 Prowein 2017
We are ready for the ProWein 2017 edition from 19 to 21 March in Düsseldorf! We will be present under the banner of the organic wines, Hall 11 stand n ° G60. We will taste the spring charm of the Rhine Valley!

Challenge Millésime BIO
Not one but two medals at the Challenge Millésime BIO in Marseille! GOLD for our Château La Grangère 2015 - Saint-Emilion Grand Cru and BRONZE for our Château Saint-Julian 2015 - Bordeaux Supérieur !
We coming back very happy !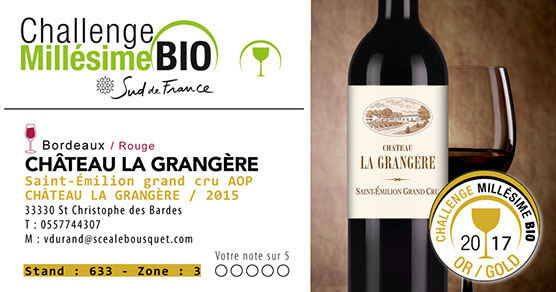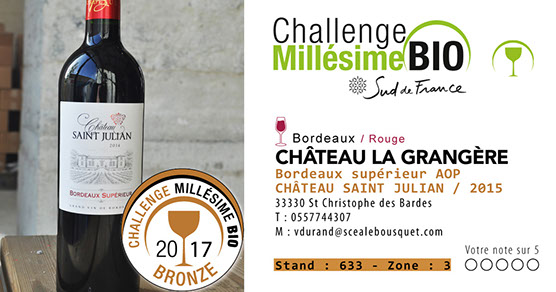 MILLESIME BIO 2017 : JAN. 30 TO FEB. 1ST.
30th-31th january and 1st february 2017
Boarding for the Exhibition Center in Marseille where we will be attending the Millésime bio fair created and organized by the winemakers of the Sudvinbio interprofessional association. This event offers a 100% organic offer allowing buyers to design their range with confidence.

The 19th and 20th november, we will be at the Barriquades, « gourmand » market of Organic Wine organised by the Syndicat des Vins Bio de Nouvelle Aquitaine. This event promote the regional and national organic wines (Champagne, Alsace, Occitanie, Rhone Valley).
More than 62 organic winemakers will be there to answer all your questions and to make you descover their wines. More than wines, we could also taste local and organic products ! A tasty and healthy activity for this week-end ! Join us at the Darwin space, Bordeaux Bastide.
CHÂTEAUMOULIN DE LA GRANGEREVintage 2014Gold medal by "Elle à table 2016"​ ​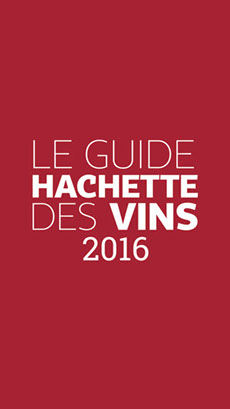 ​CHÂTEAUVIRECOURT CONTÉVintage 2013Coup de Cœur Guide Hachette 2016​

Hachette Wine Guide 2016:"What a delightful surprise from this vintage is this intensely dark wine. The nose, elegant and frank, offers notes of grilled almonds and black fruit nuanced by a slightly feral touch in which one of the judges saw the mark of Cabernet Sauvignon. The palate charms with its smooth texture and its excellent tannic framework, already well rounded, still a little incisive on the finish. Although its structure is not the most imposing, due to the nature of the vintage, it wins you over with its freshness and its finesse." This wine is available through our partner SAS Dauvergne et Ranvier in Laudun. (www.dauvergne-ranvier.com)​​